Why ePrep?
Our Proven Methodology
ePrep courses employ the proven, results-driven methodology of (1) test, (2) grade, (3) review, and (4) repeat. Contrary to many marketing campaigns, there are no short-cuts, quick fixes, or magic-wand solutions to higher SAT or ACT scores… and preparing for the SAT or ACT will not likely be "fun." Anyone willing to "try hard" and learn from his or her mistakes, however, can achieve significant and measurable success on a high-stakes test like the SAT or ACT. Again, the methodology is simple: practice, grade, review, repeat.
How ePrep works
The ePrep Learning Cycle
PRACTICE/GRADE
For maximum flexibility, you can complete ePrep tests and quizzes either online or offline. ePrep's online test functionality was designed to be intuitive and user friendly, perfect for students who don't have easy access to printers or who simply prefer to work online via a tablet or computer. ePrep's offline functionality is highly recommended because it allows students to simulate the test-day, paper/pencil environment. Regardless of how you complete an ePrep test or quiz, it will be graded instantly and you can review your score immediately.
REVIEW
Every ePrep test or quiz question comes with a video answer explanation that was recorded by a master teacher with decades of experience in high-school teaching and test prep. That's right, ePrep has literally thousands of exam-room videos embedded in courses designed to help you maximize your test-prep effort and test-day scores. ePrep goes one step further, however. Every ePrep course comes with a Study Hall that recommends subject-matter and test-strategy videos based on the most up-to-date data collected from your test performance.
REPEAT
After you've watched ePrep's exam-room and study-hall videos, apply what you've learned to a new test or quiz. Repeat the practice-grade-review cycle as many times as possible before test day to maximize your scores. If you have time over the weekend, take practice test and immediately complete the video review. If it's during the week, and you only have a few minutes to dedicate to test prep, take a quiz to hone your skills or simply stay sharp.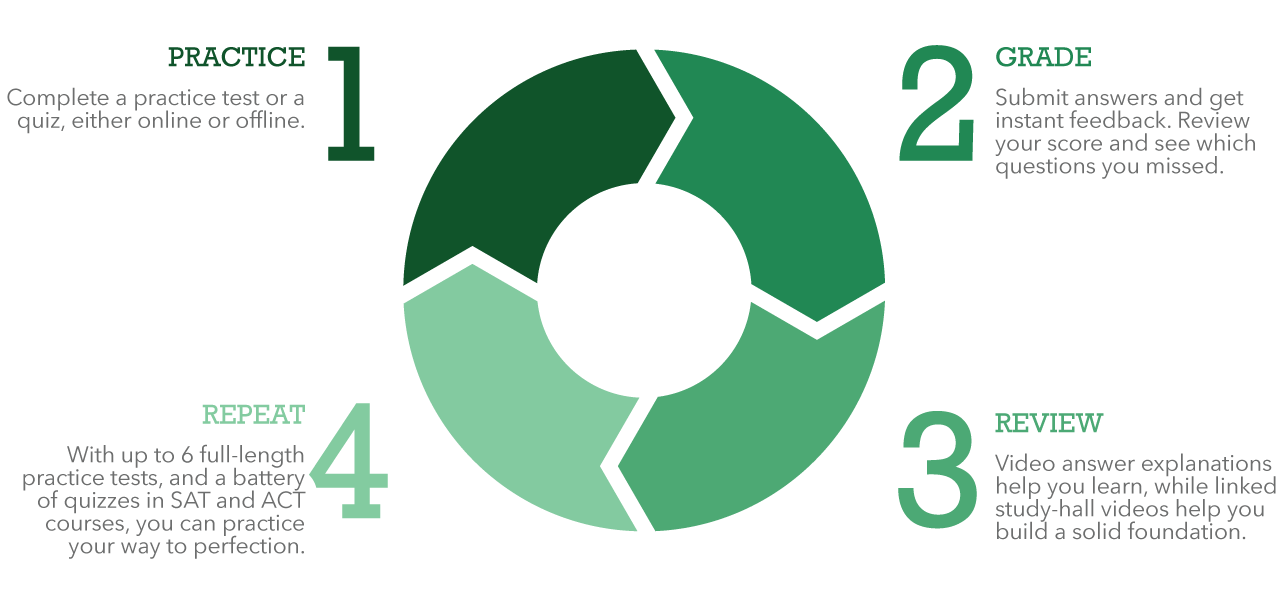 What is ePrep?
Your guide to maximum scores
ePrep was launched in 2007, a time when people were skeptical about online, video-based learning. We stayed the course, however, and watched ePrep's user base grow organically from a few thousand to hundreds of thousands per year. The reason for this growth is that ePrep actually works. In other words, students who use ePrep increase their test scores and become better prepared for the academic challenges of college.
Using ePrep is pretty simple. Students log in and pick a practice test or short quiz. Students complete tests and quizzes either online in their accounts or offline by downloading and printing practice materials. Students enter answers online for instant grading. After reviewing their scores, students watch videos associated with the questions they skipped, answered incorrectly, or answered correctly, but only after a guess or a long struggle.
ePrep videos cover academic content, useful problem-solving methodologies, and time-saving test-taking strategies. More importantly, ePrep videos show students how to solve problems in real time and in the same paper pencil environment they will experience on test day. The brilliance of ePrep videos does not come in the form of fancy multi-colored graphics or technology, but in the simple form of good teaching.
Who is ePrep?
Karl Schellscheidt
Chief Executive Officer
Karl is the President, the CEO, and a co-founder of ePrep, Inc. Based on 25+ years of teaching and private tutoring experience, he led the development of ePrep's unique video-based platform that uses the Internet to deliver expert video instruction to students around the world. Karl graduated from Princeton University in 1990 with a BSE in Civil Engineering and from Seton Hall University in 1993 with a Master's Degree in Secondary Education. After graduate school, Karl served as an Environmental Science Instructor for the Office of Continuing Education at Rutgers University. Karl also taught, coached, and served as a dorm parent at The Hun School of Princeton from 1994 to 1997. In 2000, Karl earned a law degree from the University of Pennsylvania Law School. He worked as a corporate lawyer for Dechert LLP until 2002. Karl lives in Rocky Hill, New Jersey, with his wife and three children.
John E. Dziadzio
Principal
John has served as the Head of Business Development since 2008. John graduated with honors from Princeton University in 1992 with an A.B in Economics. He then spent over 16 years at Lehman Brothers and, subsequently, Barclays Capital in various leadership roles across Fixed Income and Capital Markets. John has co-founded and helped grow various technology companies in the education space, including ePrep, Betterton College Planning and AthletePrep. He lives in Bernardsville, New Jersey with his wife and four children.
Kathy Doyle
Director of Curriculum
Kathy is ePrep's Director of Curriculum. She is responsible for coordinating the contributions of ePrep's subject-matter experts in designing the company's study programs. Kathy graduated from Princeton University in 1993 with an AB from the Woodrow Wilson School of Public Policy. Following graduation, she worked as a business consultant for Andersen Consulting where she specialized in developing training curricula for large corporations. In 1995, Kathy received a Rotary International Scholarship to the University College Cork, Ireland, where she completed a Master's degree in English. After three years in Cork, Kathy returned to Princeton University, where she worked at the Alumni Office designing educational travel and home-study programs for alumni. In 2001, she decided to return to the for-profit sector, working as a director of sales and marketing for Beacon Management Corporation, an investment manager. Kathy lives in Hopewell, New Jersey, with her husband and three children.
Thomas Melum
Chief Operating Officer
Thomas is an experienced entrepreneur. At 18 he started his first business, Slap Hands Entertainment, while playing power forward for his college basketball team on scholarship. After graduating, he launched a non-profit, Don't Worry Be Happy, in memory of his brother-in-law, raising money for brain cancer research. Recently, in his spare time, he created the world's first ever standing wave bodysurfing competition at the San Diego Wavehouse, Wompton. He has a BA in communications from Chapman University and lives in Southern California with his wife, three children and two gigantic English Mastiffs.
Julio Schneider
Chief Technology Officer
Julio is an experienced Director of Software development with over 12 years in the field. He has lead projects for the Mayor of his home town in Curitiba Brazil as well as several companies in the private sector; most notably Eudora. As a bilingual self-taught developer, he prides himself on his broad knowledge of both technological and business domains. He has a passion for learning and creating simple yet comprehensive experiences for the end user. Currently living in Brazil, he hopes to one day perform on the Superbowl half-time.